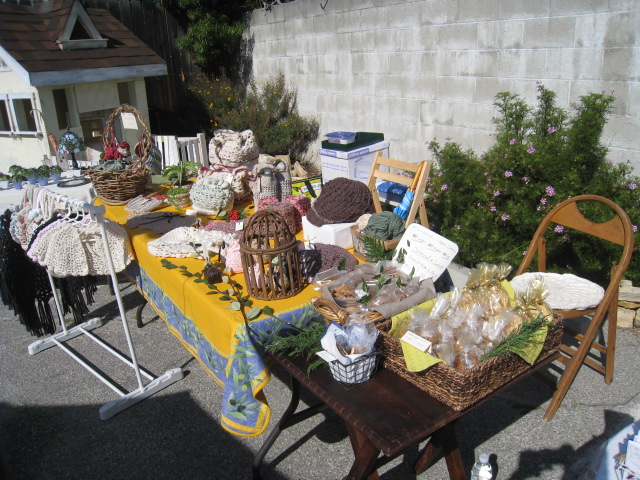 2月のとある週末、編み物の作品とマクロビクッキーをマーケットで売ってきました!
その日は快晴で、春をとおりこして夏を思わせるような暑さでした。
寒い時に編んでいた、マフラーや帽子くんたちはなかなか売れず、ちょっと苦戦。
でも、コットンのバッグなどは売れました♪
この天気では、陳列された編み物の商品は、ちと暑苦しい感じでした。。。
でも、マクロビクッキーは順調に売れてよかったです。
オートミール&カレント、ピーナッツバターの二種類を売ったのですが
健康的な感じがするせいかオートミールのがすぐに売り切れてしまいました。
前の日は、朝からクッキーを作って、ヘトへトになっていました。
夜、主人に味見をしてもらったら、なんとダメ出しされたんです。
「一般の人が、これをマクロビのクッキーだと思って食べたらガッカリするよ。
だって、固すぎていつもより美味しくない。」と、キツーイひと言。
私も内心、いつもの出来より悪いと自覚してて、作り直そうかと迷っていたので、
作り直そうって踏ん切りがつきました。
草千さんに報告したら、混ぜすぎたんじゃないのって言われちゃいました。
その通りなんです、ホントに。
いつもの材料の3倍の量で作ったので、よく混ぜ合わせようとして、
混ぜすぎちゃったんです。
皆さんも、お菓子を作るときは混ぜすぎないように気をつけてくださいね。
One Saturday in Feb, my friend & I sold our knitting products - bag,
scarf, dish scrub, hats etc. - and organic macirobiotic cookies at
market.
As it was very HOT day, like summer time, our products were not
attracted for our customers. It's also good excuse, not selling well!!
BUT, organic macrobiotic cookies - Oatmeal & Current, Peanuts butter -
were sold very well. Now I had a confident to sell cookies!!
Love,
Junko
▲ by studio-mugen | 2008-02-26 09:16 | スタッフ日記